BLACKBERRY LEMONADE MARGARITAS
BLACKBERRY LEMONADE MARGARITAS
These festive, refreshing Blackberry Lemonade Margaritas include fresh blackberry puree, lemonade, and tequila. Tart, lightly sweet, and delicious. A great warm weather party drink!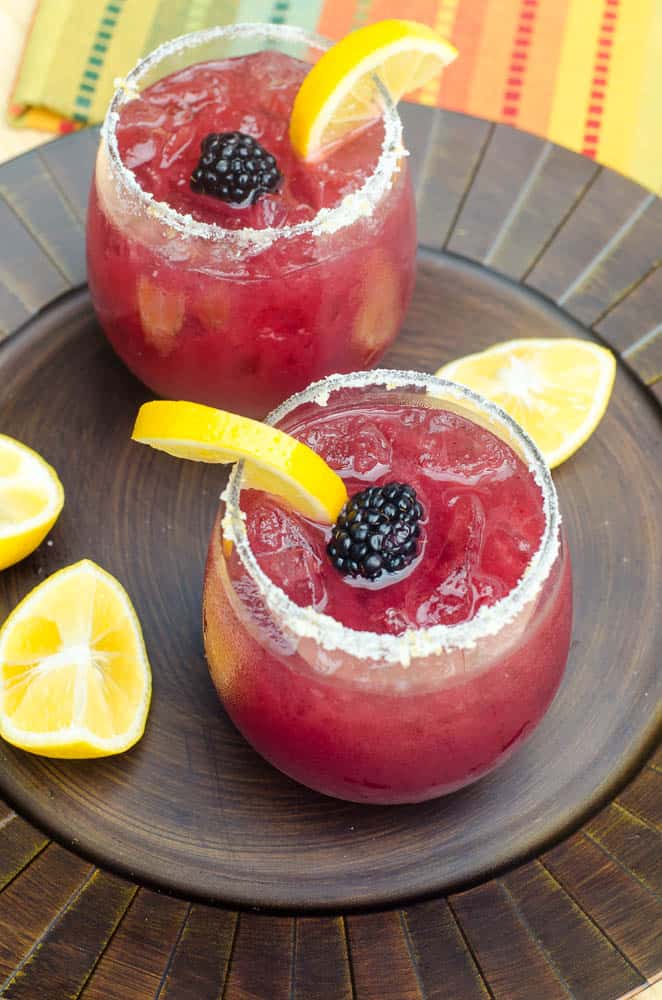 BLACKBERRY LEMONADE MARGARITAS
This tart and lightly sweet cocktail has a fresh berry flavor and vibrant color. The perfect drink to serve while blackberries are at their peak.
COOK TIME 10 MINUTES
TOTAL TIME 10 MINUTES
SERVINGS MARGARITAS Change the number in the box above to adjust serving size. Please note that size of cookware and cook time may vary.
INGREDIENTS
FOR THE BLACKBERRY PUREE:
1-1/2 to 2 cups fresh blackberries rinsed and drained
1 to 2 tablespoons sugar
FOR THE MARGARITA:
1/4 cup sugar
2 lemons use Meyer lemons if possible
4 teaspoons blackberry puree
4 ounces prepared lemonade homemade or store bought
4 ounces good quality silver tequila
INSTRUCTIONS
Process blackberries in a blender until smooth. Place a wire mesh colander over a small bowl and pour the blackberry puree into the colander, pushing it through the wire mesh and into the bowl with the back of a spoon. Add 1 to 2 tablespoons sugar to the seedless puree and stir to combine. Taste and add additional sugar if desired. Cover bowl and refrigerate puree until ready to make cocktails. Can be made several days in advance.
Place 1/4 cup sugar on a small plate. Add the zest of one lemon and mix to combine. Run the cut side of a lemon lightly around the rim of your margarita glasses and then dip the moistened rim into the sugar/zest mixture to coat the rim. Fill each glass about half-way with ice.
Fill a cocktail shaker about 3/4 full with ice. Add 2 teaspoons of the blackberry puree, 2 ounces lemonade, and 2 ounces silver tequila. Squeeze in the juice of 1/2 a lemon. Place cover on shaker and shake vigorously. Strain through the cocktail shaker over ice. Garnish with a slice of lemon and a blackberry and serve.
Repeat with remaining ingredients for second cocktail.