FRENCH ONION STUFFED MEATBALLS
French Onion Stuffed Meatballs are the ULTIMATE comfort food. Combining the best of so many worlds with super-flavorful caramelized onions, tender, juicy meatballs, and lots of gooey cheese – these are SO worth the work.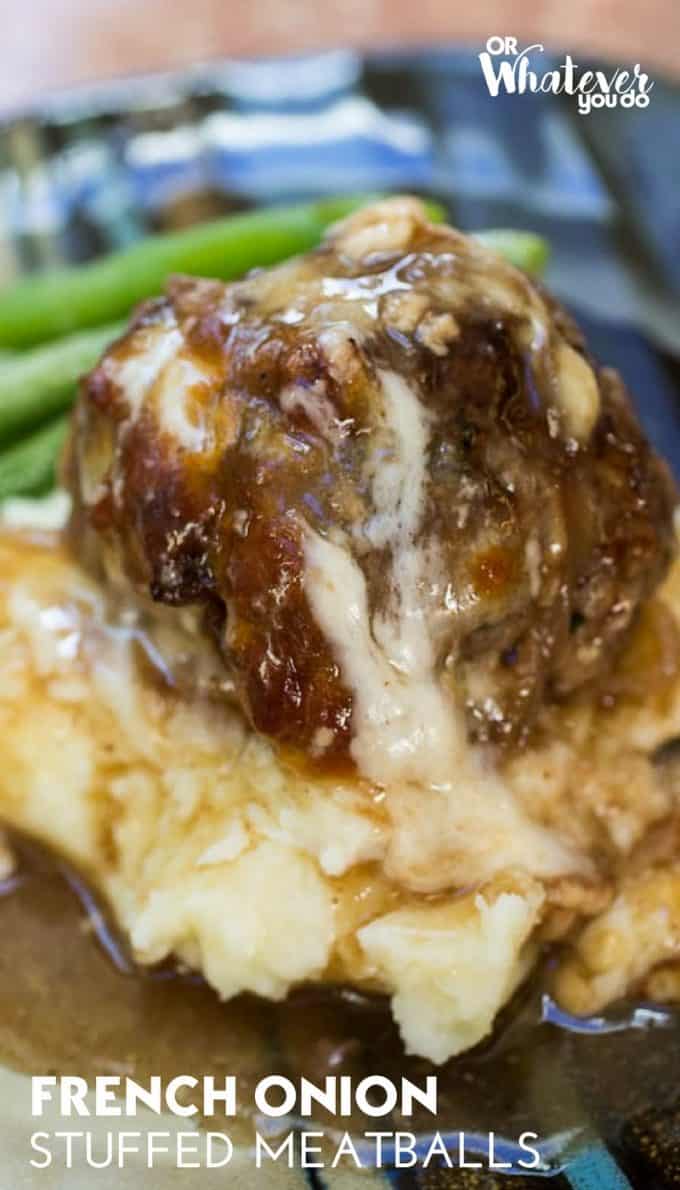 French Onion Stuffed Meatballs
Prep Time 30 mins
Cook Time 45 mins
Total Time 1 hr 15 mins
Cheesy stuffed meatballs baked and loaded with caramelized onions.
Author: Nicole Johnson
Ingredients
Caramelized Onions
4 teaspoons butter
1 large walla walla sweet onion thinly sliced
1/2 teaspoon thyme
1 teaspoon salt
1/4 cup water
1/2 teaspoon beef flavored Better Than Bouillon
1/4 cup Cabernet
Meatballs:
1 1/2 lbs lean ground beef
1 slice white bread soaked in milk
1/2 - 3/4 cup panko bread crumbs
1 teaspoon parsley
1/4 teaspoon pepper
1/2 teaspoon salt
1 egg
8 oz shredded mozzarella
4 oz provolone
1 tablespoon canola oil
Fresh chopped parsley for garnish optional
Sauce:
2 cups water
1 packet beefy onion dry soup mix
1/2 teaspoon chicken Better Than Bouillon
1/4 cup cabernet
1/4 cup chardonnay
2 tablespoons cornstarch
salt & pepper to taste
Instructions
In a large nonstick pan over medium-low heat, saute onions and butter stirring occasionally until golden brown and caramelized.
Add the thyme, salt, water, bouillon, and wine. Cook over medium heat until reduced by half. Let cool.
Combine the milk soaked bread, 1/2 cup panko, parsley, pepper, salt, and egg in a bowl and mix together until everything is a happy gloopy mess. Mix in the ground beef with your hands until the gloopy mess is evenly distributed into the meat. If necessary to make the meat formable, mix in additional 1/4 cup of panko.
Grab a small handful of the meat and flatten in your palm. Add some cheese and onions, and fold meat over and around it, sealing the edges as best as you can. This is a messy process. Repeat until all meat has been stuffed.
In a large nonstick skillet, heat canola oil over medium high heat. Brown meatballs on all sides. Remove to an oven safe dish when browned. Don't worry about these cooking all the way through. They will finish cooking in the oven.
Make sauce by combining all ingredients in a saucepan, and simmering for 10 minutes. Pour over meatballs, and top the meatballs with any extra onions, with the shredded mozzarella cheese, and any extra provolone you didn't use to stuff the meatballs.
Bake at 350 for 30 minutes, Remove, top with fresh chopped parsley, and serve with mashed potatoes.
Recipe Notes
Recipe adapted from Cupcakes & Kale Chips.