Rainbow Grilled Cheese
Rainbow Grilled Cheese
Obsessed With the Rainbow Grilled Cheese From Instagram? Make It Right Now!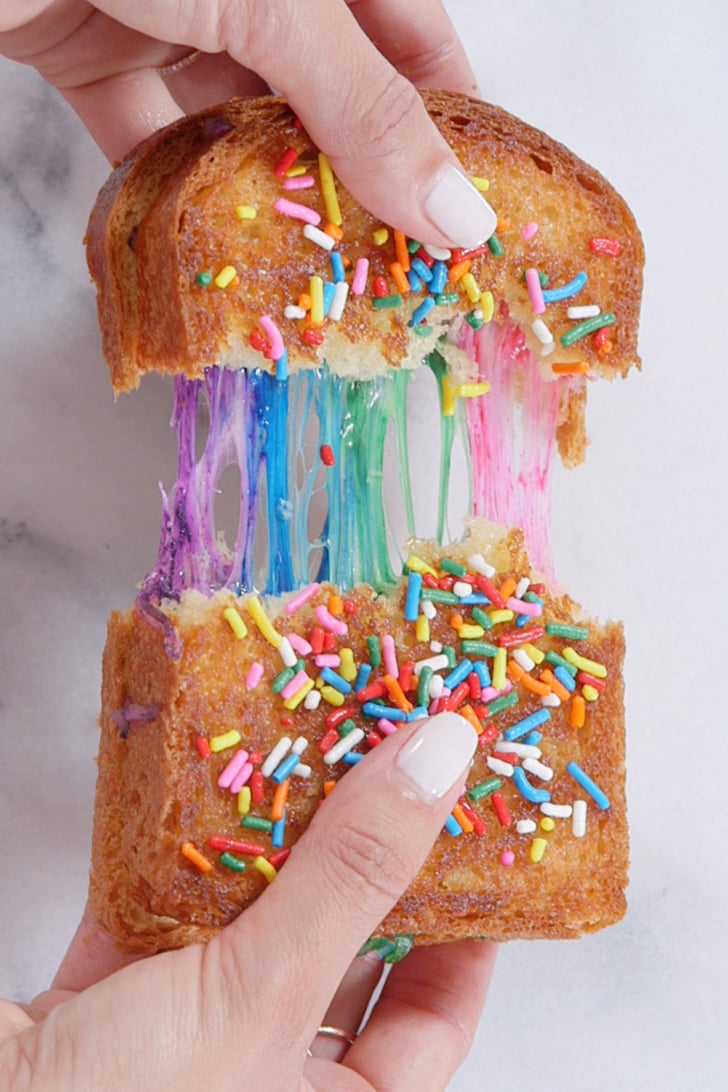 Rainbow Grilled Cheese
From Nicole Iizuka, POPSUGAR Food
INGREDIENTS
1/3 cup mozzarella, shredded
1/3 cup gruyére, shredded
1/3 cup swiss, shredded
Pink food coloring
Green food coloring
Blue food coloring
Lavender food coloring
4 slices brioche bread
2 tablespoons butter
1 tablespoon sprinkles, to garnish
DIRECTIONS
In a bowl, mix together mozzarella, gruyére, and swiss cheese. Divide between 4 bowls and tint each with a different food coloring.
Slice brioche and heat up a griddle or skillet to medium-high heat. Meanwhile, spread butter on one side of the four pieces of bread.
Place 2 pieces butter-side down on the griddle. Top with cheese and cover with the other slice of bread, butter-side up. Grill for 2 to 3 minutes until cheese has started to melt and bread is toasted. Flip sandwich and grill for another 2 minutes.
Remove sandwich from grill and top with another smear of butter. Cover with sprinkles.
Enjoy warm!
INFORMATION
Category Main Dishes
Yield 2 Servings
Cook Time 10 Minutes