Instant Pot Mashed Potatoes
Instant Pot Mashed Potatoes
Mashed potatoes make any meal a little better. And let's be honest — it wouldn't be Thanksgiving without them. Sadly, I come from a long line of mashed potato forgetters. A familiar cry heard each Thanksgiving was, "The mashed potatoes!" This could mean one of three things: Either someone forgot to start them, someone forgot they were cooking (so the potatoes turned to a watery-potato mush), or someone forgot them in the kitchen and the mashed potatoes were cold by the time they hit the table.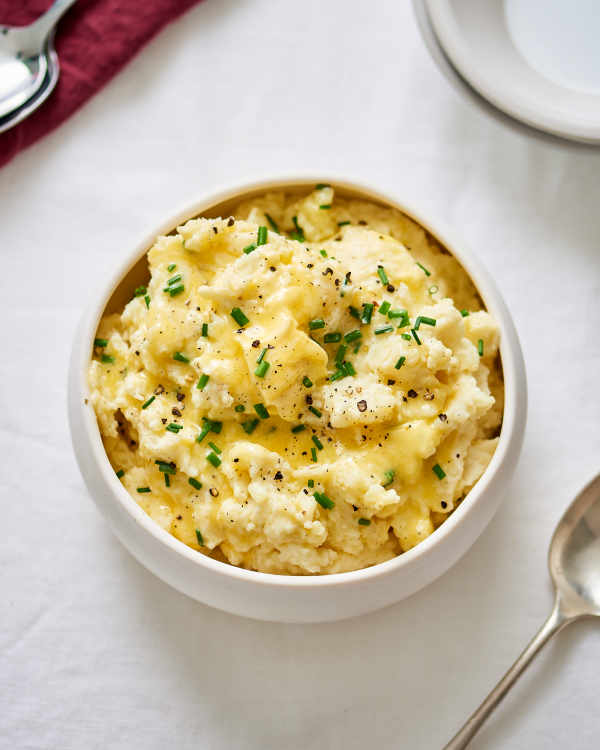 (Image credit: Joe Lingeman)
Instant Pot Mashed Potatoes
Serves 8
1 1/2 cups water
4 pounds russet potatoes, peeled
2 cups half-and-half or whole milk, warm
8 tablespoons (4 ounces) unsalted butter, at room temperature
2 teaspoons kosher salt
Freshly ground black pepper (optional)
To keep warm:
1 tablespoon butter, at room temperature
3 tablespoons half-and-half or whole milk
For serving:
1 tablespoon chopped fresh chives (optional)
2 tablespoons cold butter (optional)
Set a wire rack into the bottom of a 6-quart electric pressure cooker. Add the water. Place the potatoes on the rack. Close and lock the lid. Set the cook time for 20 minutes at high pressure.
When the cooking time ends, do not vent the pressure cooker. Allow the pressure to release naturally; this can take about 15 minutes. Once the pressure valve drops, open the lid and transfer the potatoes to a large bowl.
Add the half-and-half or milk and butter. Mash with a potato masher, food mill, or ricer. (Or whip the potatoes with a stand or handheld mixer on low speed with the paddle attachment. Do not use an immersion blender or food processor.) Add the salt, season with pepper if desired, and stir to combine. Taste and add more salt and pepper as needed.
To keep the mashed potatoes warm, wash the insert of the pressure cooker to remove cooking starch. Return the insert to the pressure cooker and coat the bottom and sides of the insert with the butter. Add the half-and-half or milk. Spoon in the warm mashed potatoes but don't stir. Cover with a glass lid or pressure cooker lid. If using the pressure cooker lid, be sure to turn the sealing valve to open. Turn on the "keep warm" setting. Gently stir the potatoes every 20 to 30 minutes to prevent them from sticking to the pot.
When ready to serve, spoon into a serving dish and top with chopped chives and a few pats of butter.
Recipe Notes
Storage: Leftovers can be stored in an airtight container in the refrigerator for up to 4 days. Reheat leftovers with this method.