MEAT LOVERS PIZZA CASSEROLE
MEAT LOVERS PIZZA CASSEROLE
We love pizza. It is that staple go-to, ready in 20 minutes, meal. And when it is eaten out of my kitchen, it many times comes out of the freezer in shrink-wrapped plastic. But, now I have an easy casserole that I can make that is as quick as spaghetti to make and then just requires a little baking time to melt all the cheese together. Meat lovers pizza casserole is a simple pizza pasta casserole recipe that embraces all of the things you love about pizza loaded with pepperoni and sausage.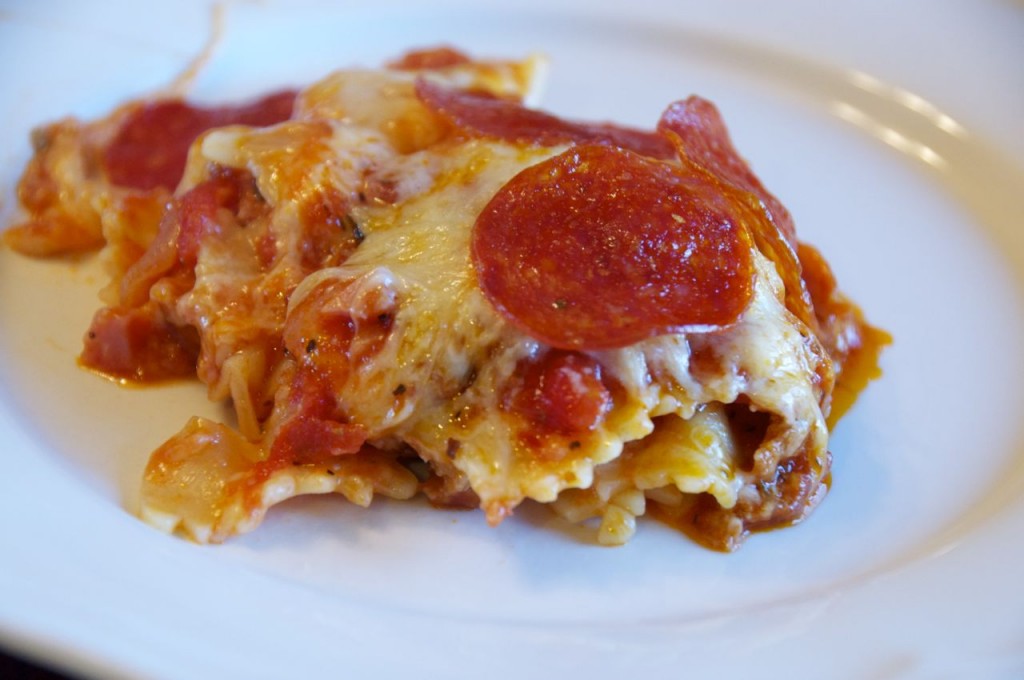 MEAT LOVERS PIZZA CASSEROLE
Course Entree, Main Course
Cuisine American, Italian
Keyword pasta bake, pizza casserole
Prep Time 25 minutes
Cook Time 35 minutes
Total Time 1 hour
Servings 8 servings
Ingredients
1 lb bow tie pasta
1 lb ground pork or beef
1 large onion medium size diced
2 26 ounce jars spaghetti sauce or equivalent of pizza sauce and diced tomatoes
1/2-1 lb of sliced pepperoni*
4-5 cups of shredded mozzarella cheese
1/3 cup Parmesan cheese
1 tablespoon of balsamic vinegar
1 tablespoon of brown sugar
1 teaspoon pasta sprinkle dried oregano
*Any additional toppings can be used that you normally put on your pizza. You will need about a cup of each topping.
Instructions
Cook pasta till el dente while you begin browning meat.
Brown ground meat with chopped onion. When completely cooked, drain grease and return meat to the pan.
Add sauce to the meat and simmer as you add the balsamic, brown sugar and pasta sprinkle.
In a lightly greased 9x13 pan, pour a small amount of meat sauce to lightly coat bottom.
Begin layering with 1/3 of the pasta, 1-1.5 cups of mozzarella cheese, 2 Tablespoons parmesan cheese, pepperoni or any other toppings followed by 1/3 of the sauce.
Repeat layers two more times. On the last layer, pour the sauce over the pasta instead of cheese and toppings.
Cook on 375 for 30-40 minutes.