Pumpkin Muffins
Pumpkin Muffins – Packed with pumpkin and topped with cinnamon-sugar, these Pumpkin Muffins are soft, fluffy, moist, and absolutely delicious! The best I've ever made.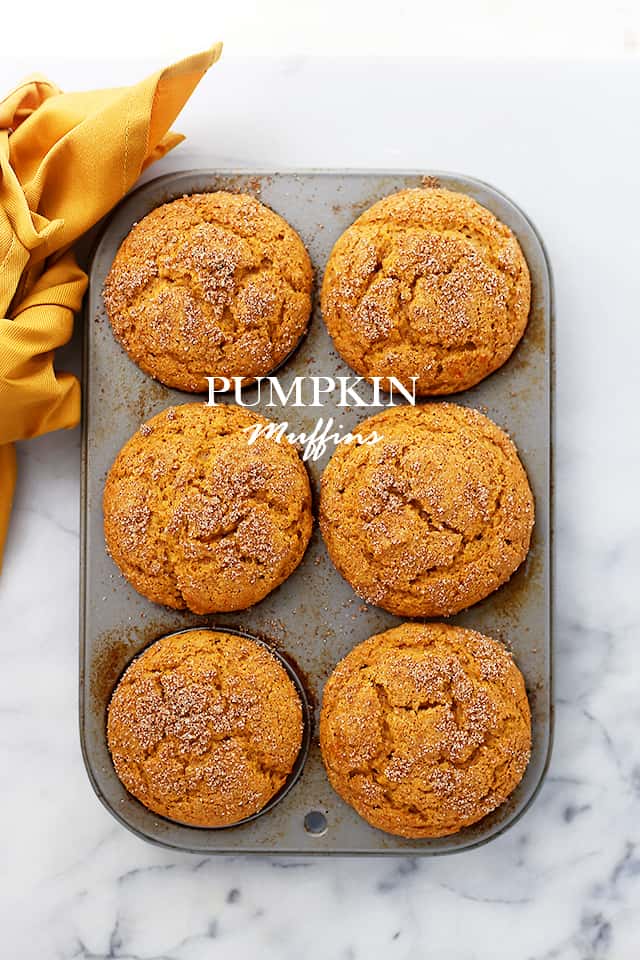 Pumpkin Muffins
Prep Time 15 mins
Cook Time 30 mins
Total Time 45 mins
Course: Breakfast
Cuisine: American
Servings: 10
Calories: 254 kcal
Author: Katerina | Diethood
Ingredients
For the Muffins
1 1/2 cups all-purpose flour
1 teaspoon baking powder
1 cup canned 100% pumpkin puree
1/3 cup vegetable oil
2 eggs
1 teaspoon pumpkin-pie spice
1 1/4 cups sugar
1/2 teaspoon baking soda
1/2 teaspoon salt
For the Topping:
1 tablespoon sugar
1 teaspoon cinnamon
Get IngredientsPowered by Chicory
Instructions
Preheat oven to 350.
Line a Texas-sized (LARGE) 6-cup muffin tin with 6 paper liners and spray each liner with a nonstick spray. OR you can use a standard 12-cup muffin tin, but you'll get about 10 muffins.
In a medium-sized bowl sift together the flour and the baking powder. Set aside.
In a large bowl whisk together the pumpkin, oil, eggs, spice, sugar, baking soda, and salt. Whisk until smooth.
Whisk in the flour mixture until combined. Do not over-mix.
In a small bowl mix together the sugar and cinnamon.
Divide the batter evenly among the prepared muffin cups, sprinkling the cinnamon-sugar on top of each muffin.
Bake for 25 to 30 minutes, or until a toothpick inserted into the center of a muffin comes out clean.
Cool for 5 minutes before turning them out onto a cooling rack.
Recipe Notes
Heavily adapted from Smitten Kitchen
WW SmartPoints: 12