RO*TEL CHEESEBURGER SPAGHETTI
RO*TEL CHEESEBURGER SPAGHETTI
One of the things I love about Ro*tel tomatoes is all of the choices you have. Ro*Tel has you covered so that you can choose the heat level you love. You can choose between Original, Mild, Hot, Chunky and Mexican. They also have Chili Fixin's. I have been using Ro*Tel for years, I love the quality of the product. Did you know that from the time the tomatoes are picked that that they are canned within 6 hours! Amazing.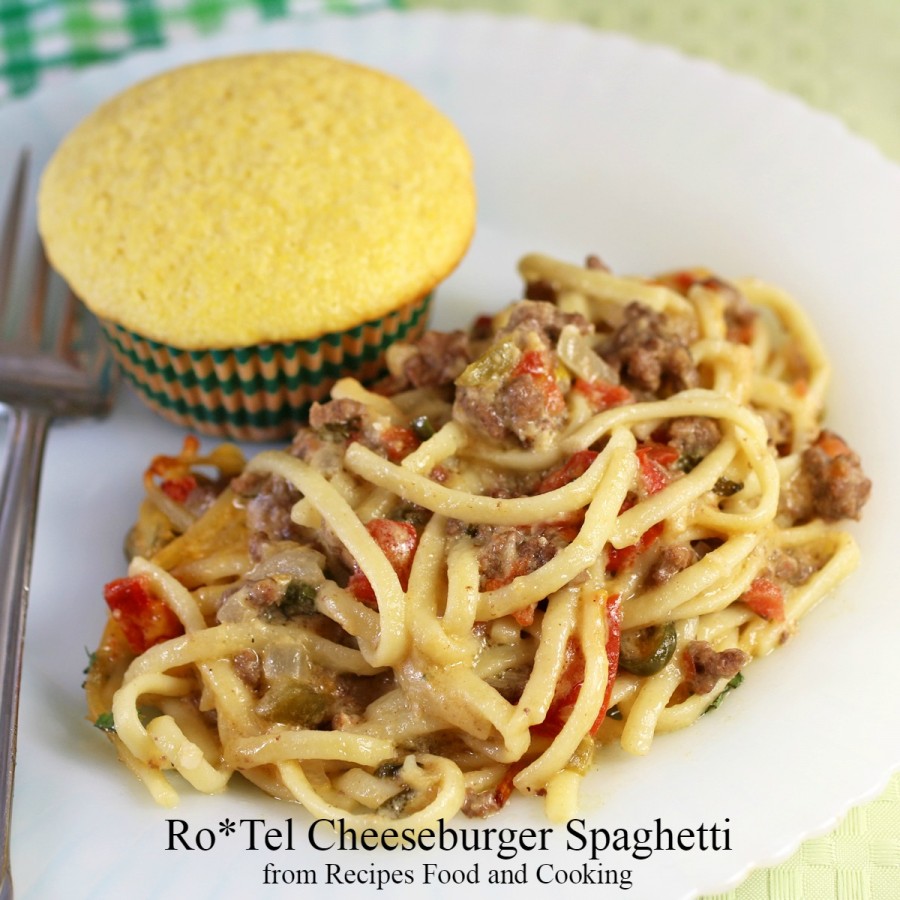 RO*TEL CHEESEBURGER SPAGHETTI
Author: Mary Ellen
Recipe type: Casserole, Beef
Prep time: 15 mins
Cook time: 20 mins
Total time: 35 mins
Serves: Serves 4 - 6
INGREDIENTS
1 1/2 lbs. ground beef
1/2 box linguine
1 can Mild Ro*Tel Tomatoes
1/2 cup diced onion
2 garlic cloves - minced
1 tablespoon butter
2 tablespoons flour
2 cups milk
8 oz. cheddar cheese
1 - 2 jalapeno peppers - seeded and chopped (optional)
handful cilantro - chopped
salt and pepper
INSTRUCTIONS
Preheat oven to 400 degrees.
Brown the ground beef with the onions and garlic. Add the Ro*Tel tomatoes.
Cook the linguine for about 6 minutes, it will finish cooking when it is baked. Rinse well in a strainer.
Melt the butter in a saucepan. Stir in the flour. Add the milk and whisk until thickened. Add the cheese and stir until melted.
Combine the ground beef, linguine and cheese sauce together. Add the cilantro. Stir in the jalapenos. Add salt and pepper to taste. Pour mixture into a greased casserole dish.
Bake for 15 - 20 minutes until it starts to bubble and brown. If you made this ahead and it is coming from the refrigerator it will take 45 minutes to bake.