TACO SOUP
If you like tacos, you'll love this taco soup! This taco soup recipe is ready in only 30-minutes and it is a great healthy soup to make for meal-prep. Skip the spoon and scoop this soup with your favorite tortilla chip!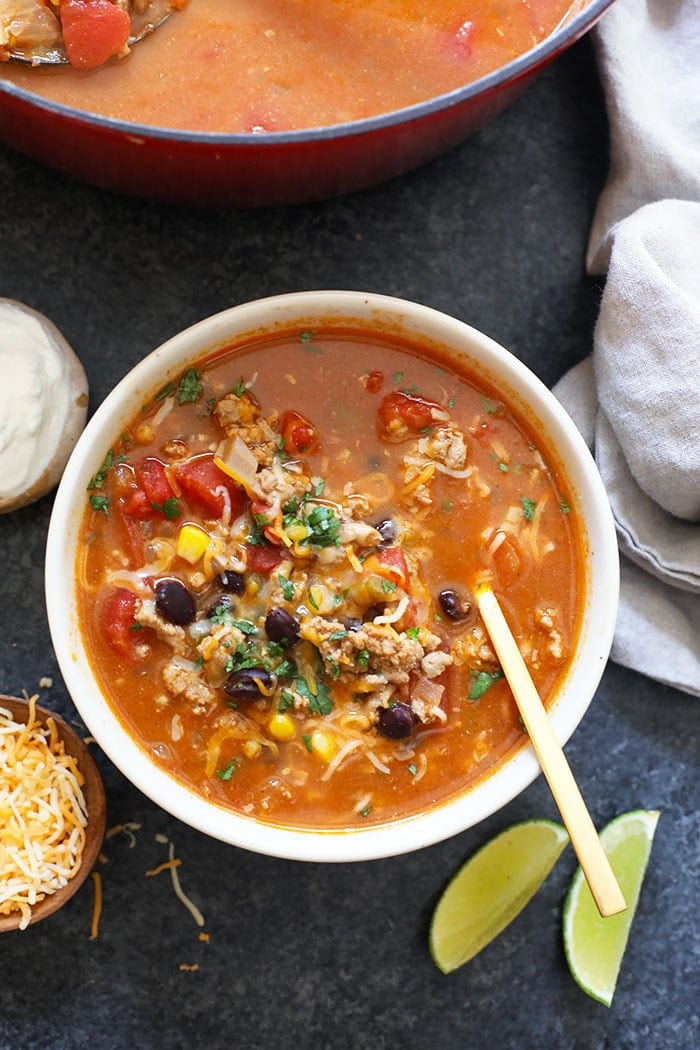 TACO SOUP
PREP TIME:10 minutes
COOK TIME:20 minutes
TOTAL TIME:30 minutes
AUTHOR: Linley Richter
YIELD: 6
CATEGORY: Dinner
CUISINE: Mexican
INGREDIENTS
2 tablespoons olive oil
1 white onion, diced
1 lb. lean ground turkey
1/2 teaspoon salt
1 packet taco seasoning (~3 tablespoons taco spices)
5 cloves garlic, minced
1 15oz. can black beans
1 4oz. can green chiles
1 cup frozen corn
1 15 oz. can diced tomatoes
3 tablespoons tomato paste
2 teaspoons apple cider vinegar
1/2 tablespoon Franks Hot Sauce (or more, to taste)
4 cups chicken broth
1/2 fresh cilantro, finely chopped
Optional Toppings
Greek yogurt
Shredded cheese
INSTRUCTIONS
Start by heating a stock large pot over medium heat. Add olive oil.
When olive oil is fragrant, add onion. When the onion is translucent, add ground turkey, salt, and taco seasoning. Saute for 2-3 minutes, stirring frequently.
Add the rest of the ingredients to the pot (except for the cilantro) and bring to a boil.
Reduce heat and let simmer for 20 minutes.
Add cilantro, stir, and serve with your favorite soup toppings!
NUTRITION
Serving Size: 1/6 Calories: 284 Sugar: 5 Sodium: 463 Fat: 11 Carbohydrates: 25 Fiber: 7 Protein: 21 Cholesterol: 53